Water Jet Cutting – Making Great Logos
At TMC Waterjet we're proud to have cut some logos for leading companies, including luxury boutique Boux Avenue.
For all companies, the logo is an important calling card; when you're displaying it in 20 foot letters on a busy High Street you want it to be flawless.
And that's why Water Jet cutting is an increasingly common choice for businesses, it can cut materials to a depth of 25 centimetres, yet unlike laser cutting there is no risk of micro abrasions or heat damage.
Here we take a look at some of the best logos cut by waterjets, there are some you might recognise, others will be new to you.
Boux Avenue
One of our own projects, Theo Paphitis's Boux Avenue wanted a dramatic entrance statement for their shops to reflect and match the quality and finish of the lingerie. Porcelain floor tiles, notoriously difficult to cut were chosen for the shop entrances.
The pink X was cut separately as an infill, you can read more about this job by heading here.
Starbucks
What's your coffee of choice, a no nonsense espresso, maybe a Latte, or an indulgent affair with caramel and cream?
Whatever you fancy, Starbucks will have just the thing – and they've got a pretty nice logo too. Doesn't it look great here, precision cut using a water jet cutter.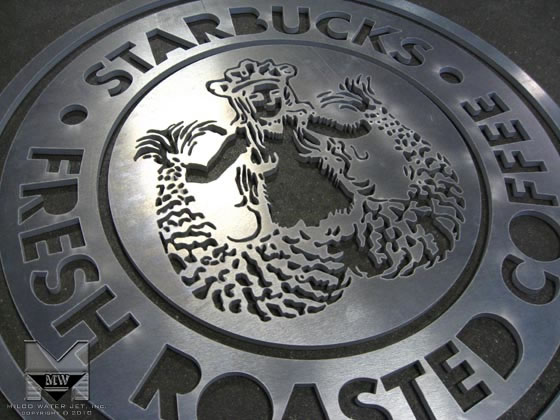 Minnesota Vikings
The logo for the iconic American Football team has been cut into tiles here. The Viking doesn't look the happiest does he, perhaps he's reflecting on the Vikings' 2015/16 season which ended in a heartbreaking 10-9 defeat by Seattle in the post season play-offs.
Seastone Store Front
Seastone are tile specialists in the north of England, who provide beautiful thin ceramic tiles.
A high end product such as this requires a classy, high end store front. Using water jet cutting they were able to create this stunning effect.
Unknown logo
We're not sure what this logo is for – what we do know though is that it looks classy. We could imagine this design outside expensive offices, or scaled down on the grille of an expensive luxury car.
Whoever it's for, someone has got themselves a great logo, all made possible through water jet cutting.
The Kenyon Noble lumber design centre
You know this place, right? Us neither, though we are reliably informed it is the place to go for all your lumber needs if you happen to be reading this from Montana.
What we're really interested in though is the logo.
School logo
Can you remember your school logo? Did your school even have a logo?
This one from an American High School is a bit special, a high quality job made possible by water jet cutting. Not sure there were too many school logos made with this precision in our school days!
Samsung
Samsung have always been at the cutting edge of technology, as anyone who has tried out their virtual reality headsets will know. Turns out they are also at the cutting edge of cutting edge technology too – here commissioning a beautiful water jet cut logo.
Innovative Sports Ventures
The logo for Innovative Sports Designs looks both modern and stylish – this logo is cut into stainless steel.
TEN
And to finish, a marriage of modern technology and an older design. The serif font and logo provide a classy feel, one which the flawless finish reflects.
About TMC Waterjet
Interested in how water jet cutting could create a stunning logo for your company? We'd love to discuss your bespoke needs – at TMC Waterjet we have experience of working with everything from formula 1 teams to a local parish church.
We were also the first UK water jet cutter to offer dynamic, 3d cutting. You can find out more about us here.